Hybrid events are the perfect solution for those who want to have the fullest experience from both in-person and online events. SharEvent takes care of everything to create an absolutely unique mix.
Simple and complete hybrid events
With SharEvent's hybrid events platform, events become an exciting experience both for in-presence and online attendees. You can build rich and productive events by being able to rely on a single platform for the organization and management of all activities.
ATTENDANCE management AND ACCESS control
The integrated management system allows you to keep offline and online attendance under control in real time.
Stimulate engagement and participation in the activities of both in-presence and online attendees with a single tool, and provide them with a unique and seamless user experience regardless of the device they are using.
Build and manage all your marketing and branding initiatives thanks to a set of tools designed to put your event under the spotlight.
INTEGRATED EXHIBITION AREAS
The physical and virtual exhibition areas are integrated through tools such as virtual booths, online agendas and chat and videocall tools.
Use personalized games to encourage learning, stimulate participation and to create relationships between in-person and online attendees.
Chat and notifications facilitate communication and networking even at a distance, between attedees and between speakers and their audiences.
Polls, votes and evaluations allow all attendees to actively participate in the activities regardless of where they are experiencing them, as well as sharing the sentiment linked to the event.
ONLINE TO OFFLINE AND VICE VERSA
A unified management system makes an online event and an offline event two sides of the same coin, because the experience you want the audience, sponsors and exhibitors to live is all that matters.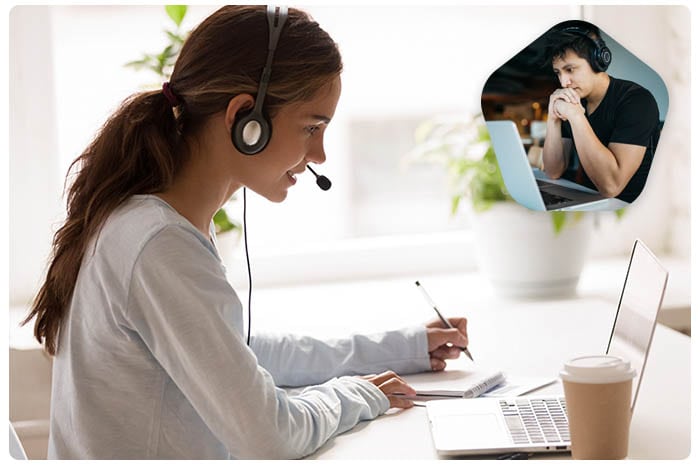 CREATE your next hybrid event WITH US
Whether it's the first time you are organizing a hybrid event, or you simply want to talk to our team to receive some advice, our event specialists are here to help.
One of the central features that makes SharEvent loved by its clients is its customer service. We have thousands of events under our belt and we are always excited to help our clients create their next, memorable event.
Connect SharEvent to your in-presence tools
SharEvent's event management system is designed to integrate seamlessly with any in-presence workflow. Thanks to a series of modules designed specifically for hybrid events, it interconnects with the work of your technical service. Talk to our experts and discover the necessary steps to fully integrate the in-presence and online parts of your next hybrid event.
Start planning your next event now
EVENT ORGANIZERS TRUST SHAREVENT