EVENTs MANAGEMENT SOFTWARE
SharEvent is the event management software for all your events. With its flexible and modular structure, SharEvent is able to cover all the necessities of event managers: from marketing to access control, from networking to the management of exhibition areas and much more.
EVENT ORGANIZERS TRUST SHAREVENT

THE events MANAGEMENT SOFTWARE FOR
SharEvent makes creating and managing events fluid and easy through a set of tools to plan, manage and assess each activity, from A to Z.
TECHNOLOGY THAT TRANSFORMS IDEAS INTO GREAT EVENTS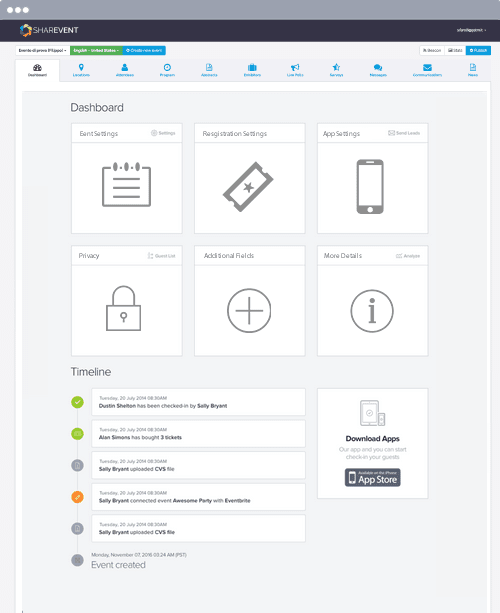 With SharEvent's Events Management Software, creating an event has never been easier. The structure of the event is easily and quickly set up as it is the customization of graphics and content. You can easily activate an online registration system and you can create web pages and websites in a few minutes, to allow attendees to get all the information they need and to register. You can even decide when to open and close registrations and when to send deadline reminders.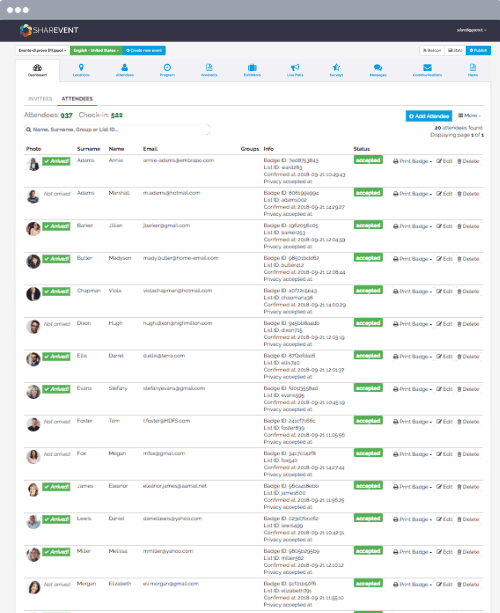 You can create or import your attendee list directly to SharEvent.  This way, when your attendees use the registration page, their registration will be immediately visible in the right section of the the software's admin panel, and it will always be updated in real-time.
You can also check access and attendance at any time, so you can always know who is participating to your event and activities. You can even create unique QR codes to allow attendees to speed up check-in procedures and make them safer.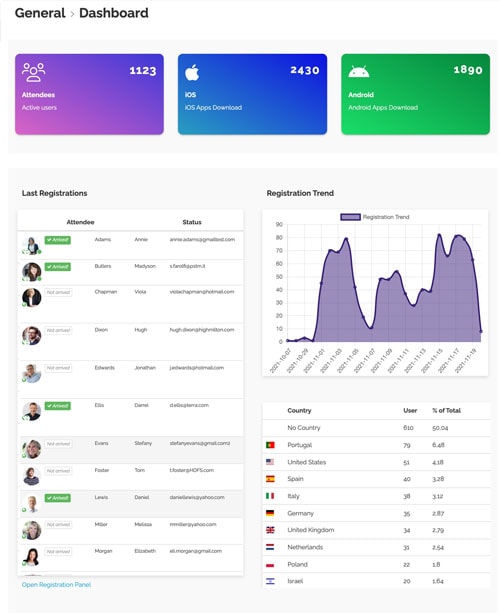 Always keep all the significant parameters of your event under control, from attendance to engagement, from satisfaction to visits to the exhibition area. With SharEvent's event management software you always use up-to-date data to take action in real-time or to carry out marketing activities during the event. Data also remain available after the event closes, so they can be used for future planning and evaluations.
OUr clients love SharEvent
Complete platform in every aspect, the new website builder is fantastic and made me abandon the use of wordpress which cost more and needed my
The platform provides ample opportunities for the participants. There are plenty of activities to do to keep their interest high during breaks. The virtual experience
The interactive exhibit area was better than expected and generated tons of stats for sponsors.
Great support for my event from start to finish, SharEvent was a pleasure to work with.
Start planning your next event now