Event Management
Software for
MEMORABLE EVENTS
Event management from a to z
CREATE MEMORABLE EVENTS
In creating the Event Management Software by SharEvent, first of all we started with  a strict selection process. We analyzed all the aspects and all the processes that come into play when one needs to create and manage an event, and, event after event, we created a system that minimizes time losses and focuses on what really matters in order to create successful events.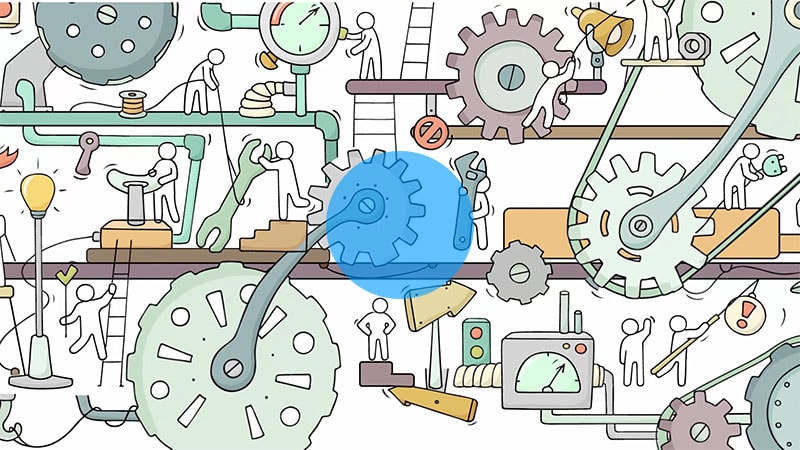 DISCOVER THE EVENT MANAGEMENT SOFTWARE 
by SHAREVENT
BEFORE THE EVENT
Creating an event has never been easier. With the event management software by SharEvent, you can do everything quickly and easily. Set general event data and customize graphics and content. Activate an online registration system and make it accessible, independently, to participants on either ad-hoc web pages or as part of a more complete website, which you will be able to create with SharEvent as well, in a few minutes. Your guests will have all the information regarding the event in one place, and will be able to complete the login and registration process in just a few minutes, simply and clearly. It is up to you to decide when to open and close the registration, and when to send reminders for any and all deadlines.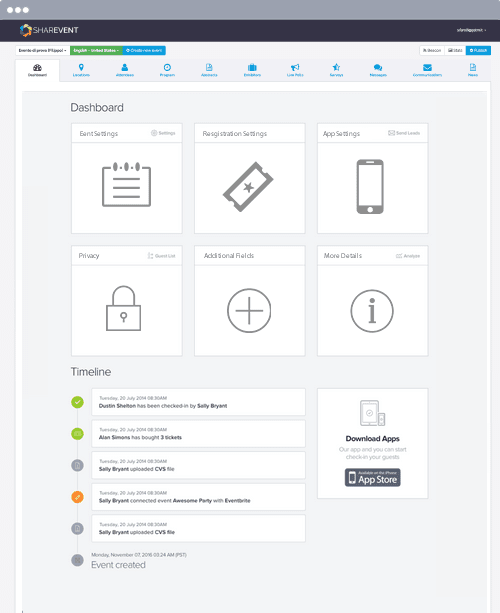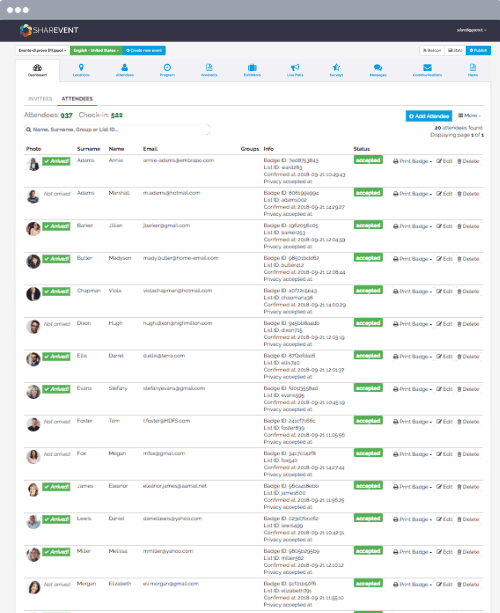 DURING THE EVENT
Create or import the list of participants to your event directly on SharEvent. Thus, when your users will interact with the registration page, their actions will be immediately visible in the appropriate section of the software, and the page will be updated in real time once this process is completed.
Verify in real-time check-ins, attendance rates and entrances. This way you will always know who is attending your event or his/her meetings. Create unique QR codes to allow participants to quickly and securely access your event, thus speeding up the entry phase in complete safety.
AFTER THE EVENT
Keep under control, at all times, all the parameters that are relevant to your event, from attendance rates to engagement, and from satisfaction to traffic in the exhibition space. With the event management software by SharEvent you will always have updated data to use to make changes in real time or to carry out marketing activities during the event. This data collection process will be useful once the event is over as well, since its results can be priceless for planning future events.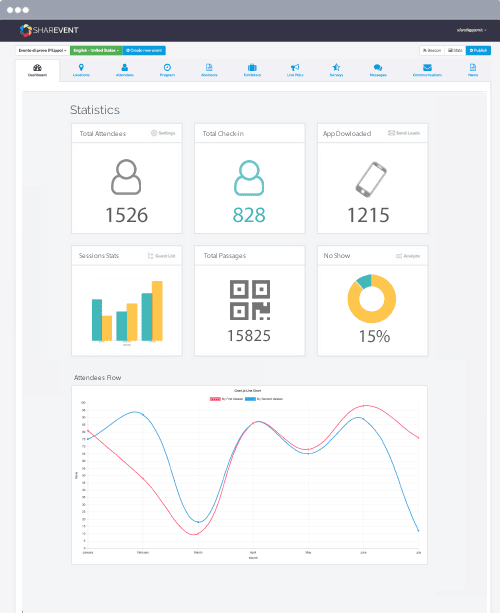 OUR CLIENTS
APP CHECK-IN
The App for you
Manage the main phases of the event directly from your smartphone, starting from the check-in of the participants which now becomes fast, safe and definitely more practical. Reduce queue waitings time, facilitates access to your participants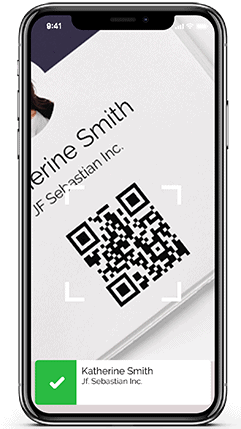 EVENT APP
The App for your attendees
Create an event within the event, with an App that enhances the value of the experience you are creating. Unique, because it is yours alone, and customized according to the characteristics of your event and your guests.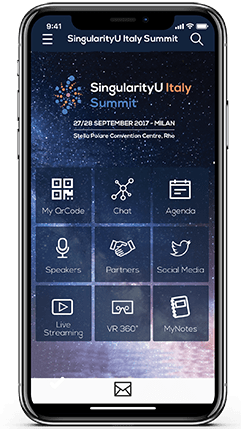 Contact us for a personalized quote.